Bike trainings in Szczyrk
Are you a cyclist? Improve your skills!
What attracts tourists the most? A wide palette of trails to choose from, both these easier and those more difficult ones, to be sure. For this very reason, a whole myriad of enduro cycling routes was built in Szczyrk which has been enjoying a truly wild popularity amongst the two-wheel visitors henceforth. And now it gets even better, because you can improve your skills and technique under the watchful eye of the experienced instructors at → the Szczyrk Bike Academy.
Every participant must own: an enduro/MTB bike and helmet. Knee and shoulder pads as well as AD&D insurance are recommended.
On the spot, you can rent a high class → TREK bike and all the other equipment elements. Please enrol for the course in advance: → +48 787 142 140.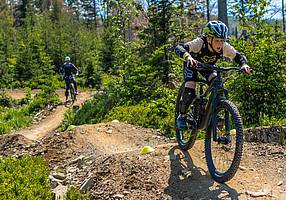 GROUP TRAININGS
For maximally 10 people. Run by 2 instructors. Two difficulty levels: beginner and intermediate. Either one-day or two-day trainings to choose from.
more
INDIVIDUAL TRAININGS
Classes for 1 or 2 persons. You are free to choose the date yourself, but the trainings need to be booked in advance. Duration: 2 h.
more
---
We hope you have found the information you were looking for.
Home page →