K2 Ski Touring Academy
Ski tour trips with experienced instructors

Ski touring is a marvellous fusion of downhill skiing and hiking which gains more and more popularity every single year. Just imagine… You're free, surrounded by forests, feasting your eyes on the beauty of the peaks all covered in snow. That's ski touring in a nutshell. Our newly opened K2 Ski Touring Academy will teach you all that you must know about the equipment and the technique you should choose depending on the terrain you are touring. Furthermore, we'll also show you how to use the avalanche safety equipment and how to avoid avalanches if the Beskids are too small for you and you would wish to hike higher up. Because our Academy believes that Szczyrk can be an excellent prelude to high mountain ski touring later on.
Our trainings are in fact happy trips conducted in a relaxed atmosphere. Once the trip is over, we are always at your disposal, most happy to answer any questions and clear any doubts you might have.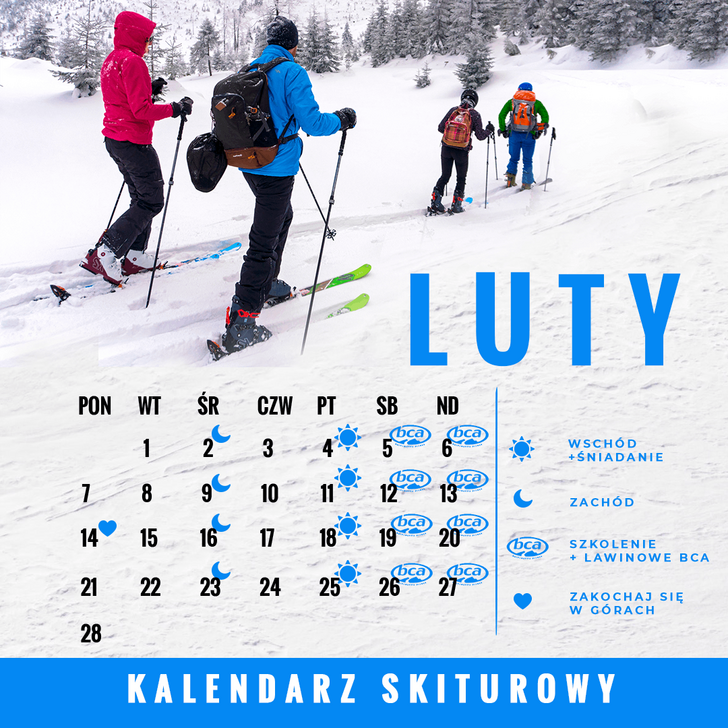 Who's the target group of the trainings?
The classes are intended for alpine skiers. Each participant needs to have at least the basic knowledge and blue piste skills. The trainings are not about ski learning, though. After each lesson, the participants ski back downhill (most frequently, it's the blue piste no. 3). You may not come back using the chairlift from the Robber's Mountain (Zbójnicka Kopa) or Skrzyczne. Climbing to the top takes 1, 5 hours, 2, 5 hours tops, depending on how fit you are. And if you feel like having a nice stroll, then, step by step, without any hurry, you can reach the summit within 4 hours (you'll even have the time to stop on the way and rest for a bit). If, all of a sudden, the weather conditions become quite nasty or the participants turn out to be less fit than they had previously claimed to be, perhaps we won't make it to the top. In such case, the instructor may cease the trip and take the group back down. The pace of the trip depends on the slowest participant.
Corporate trainings and team-building
Want to organise a training for a group of friends or employees? Long for some wild adventure in the mountains? With our top quality equipment and rich mountain land experience at hand, we can organise e.g. hiking with a simulated avalanche emergency action or tent nights. More details? Sure! E-mail us and we will certainly find something to suit your liking and taste.
---
We hope you have found the information you were looking for.
Home page →