'Max the Teddy Bear' Academy
For children aged 6-16 years| 2 or 5-day lessons
As winter approaches, we are preparing for the ski season in Szczyrk. For the youngest, the registration for ski courses has been opened. In 'Max the Teddy Bear' Academy there are multi-day courses for your children in the winter season. We invite you to check out our offer.
Lessons start in: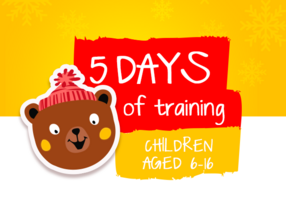 5 days of training
In winter 2022/23 we organise ski and snowboard courses for children aged 6-16 (snowboarding starts at the age of 8). Each group shall have up to 5 participants. Children of all levels are welcomed.
more
Weekend 'Max the Teddy Bear' Academy
It is also new in the winter season. 2-day course at a favourable price for children at every level. Groups of max. 5 children.
more
---
We hope you have found the information you were looking for.
Home page →